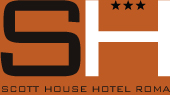 MAKE YOUR RESERVATION
SEASONAL OFFERS
Minimum guaranteed discount for bookings made trough our Official Website
Save UP to 10% off our best available rate !
Get up to 14% off with a 3 nights minimum stay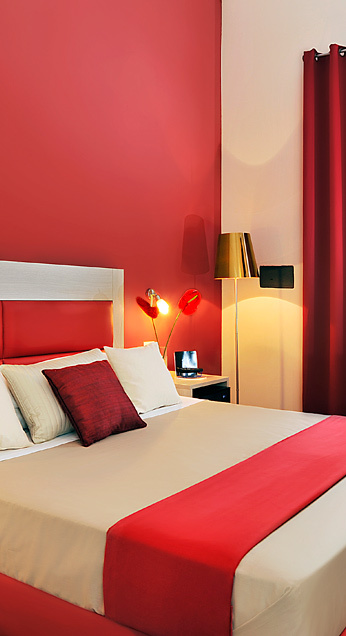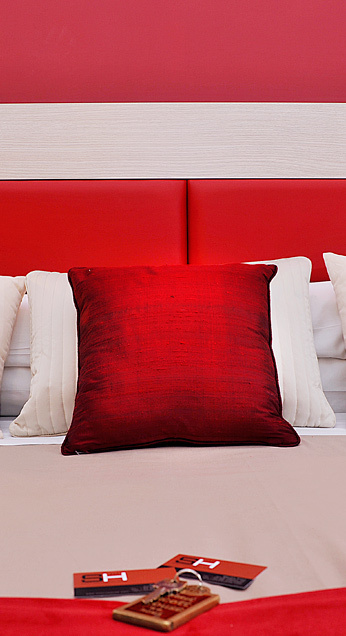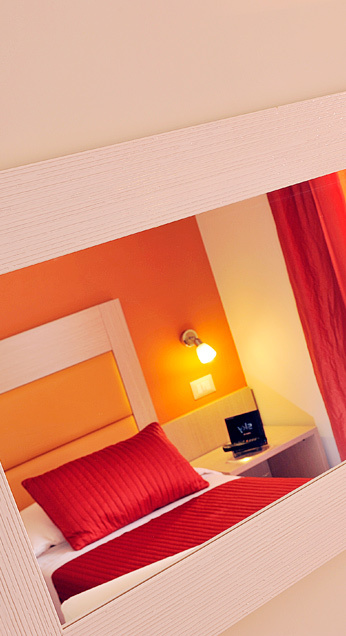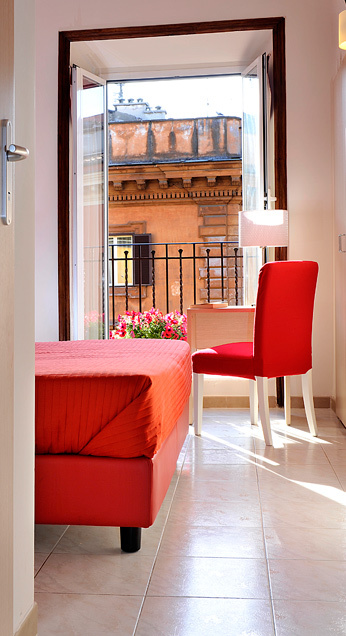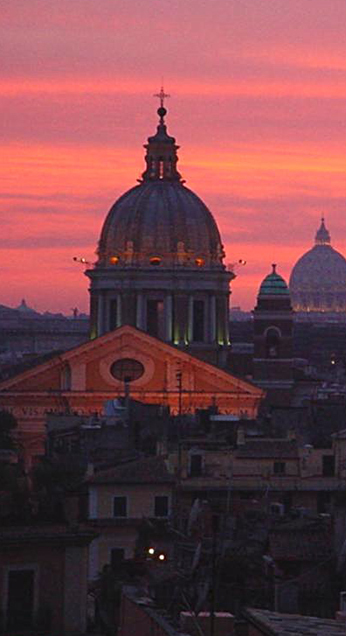 Rome Guide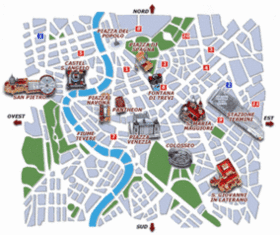 Guide Index
:
General Information
Transportation
Money
Consulates
The sights
Daytrips
Rome Guide - Daytrips
If you want to get away from it all, consider these suggestions:
Pompeii
This is admittedly a bit of a long day trip, but if you aren't planning to stay in Naples , Sorrento , or the Amalfi coast, you can do it from Rome . The ancient town of Pompeii was buried during the eruption of Mt. Vesuvius in 79 AD. The volcanic debris suffocated all life there but did very little damage to the buildings, actually preserving many of them under a light layer of ash and pumice. Today you can walk around and get a real feel for daily life in Roman times, as the site is complete with baths, theatres, villas with wonderful frescoes and mosaics, temples, markets, and the ever-popular Lupanare, or brothel. Mon-Sun 9am-7pm in summer; until 3pm in winter. € 10.00. Take a train from Termini station to Napoli Centrale (about 2 hours, see prices above in "Train" section), then catch the local Circumvesuviana train to Pompei Scavi (about 30 minutes, € 1.60). Factoring in connections and mild disorientation in the chaos of the Naples station, the trip from Rome to the site takes about 3 1/2 hours one way, so get an early start!
Ostia Antia
If you don't make it to Pompeii , at least make it here, to the ruins of ancient Rome 's port city. The peace and tranquility of this tree-filled area is interrupted only occasionally by jets on final approach to Fiumicino airport nearby! Highly recommended. € 4. Metro Line B: Piramide or Magliana, then take the "Ostia Lido" local train to Ostia Antica. (TIP: Buy a daily ticket € 4.00 to cover your metro and train rides.) Open 9am until one hour before sunset; closed Monday.
Tivoli
This hill town offers the beautiful Villa d'Este (€ 6.50) with its sloping gardens of 2,000 fountains. Just down the hill from Tivoli is Hadrian's Villa, where the great architect-emperor recreated the sights of his travels throughout the Empire. Metro Line B: Ponte Mammolo, then blue COTRAL bus to Tivoli (€ 3.10). If you would like to see both villas in one day, we recommend visiting the Villa d'Este first, then catching the local orange bus from out in front of the Villa d'Este down the hill to Villa Adriana. This bus will leave you in front of a bar, then it's a five-minute walk to the entrance of Hadrian's Villa. At the end of the day you can either take an orange bus back to Rome (Ponte Mammolo metro station) from the bar, or walk a little bit farther to the main road (Via Tiburtina) where the blue COTRAL bus back to Ponte Mammolo runs more frequently. Hadrian's Villa is open daily from 9am until one hour before sunset; the Villa d'Este has the same opening hours but is closed Monday.
Palestrina
The highlight of this little town southeast of Rome is the ancient Roman sanctuary of Fortuna Primigenia, a 2nd century BC temple complex built into the hillside. A museum has been added at the top of the sanctuary and houses a huge mosaic depicting scenes of life on the Nile . On clear and cloudy days alike the views across the hills to Rome are awe-inspiring. Museum and archaeological site €3 (069538100) Open 9am-5pm. Metro Line B: Ponte Mammolo, then blue COTRAL bus to Palestrina (about a 45-minute bus ride).
Cerveteri
If you have seen the Etruscan treasures at the Villa Giulia or Vatican museums in Rome , you may be interested in visiting the actual tombs where the artwork was found. The archaeological site of Cerveteri is a 7th to 5th century BC necropolis, consisting of dozens of "tumulus" tombs (earthen mounds with carved interior chambers). As few tourists make it out here, you'll enjoy a lot of peace and quiet as you wander around, and exploring the dark caverns of these tombs will make you feel like Indiana Jones! Bring a flashlight. Via della Necropoli (06 9940001) €4. Metro Line A: Lepanto, then blue COTRAL bus to Cerveteri (the bus ride takes a little over an hour).
Note: Avoid making these trips on Saturdays and Sundays during the summertime. You'll spend much more time in traffic than at the actual sites!
Beaches
If you have had enough of monuments and churches and just want to go sit and get some sun, there are some beaches easily accessible from central Rome . Be aware, however, that the pictures of the sparkling blue waters of the Italian coast have not been taken anywhere near Rome ! But if you are still determined to get to the Mediterranean, the beach at Lido di Ostia is the closest and easiest to reach (Metro Line B: Piramide or Magliana, then local train to Lido di Ostia--use the "Cristoforo Colombo" stop.) When you get off the train, you will see many different beach clubs. Expect to pay an entrance fee of up to €10, which includes showers, lounge chairs and changing rooms.
Between the entrances to the different beach clubs you will find free-accesss

passageways to the beach. Alternatively, you can head to the protected dunes of the Spiaggia Libera di Castelporziano. From the C.Colombo train station, it's a five-minute bus ride south to one of the numerous free-access gates. Here you will find a more traditional "beach" setting.
Other suggestions for a day at the beach:
Fregene
This is where most Romans go to bronze themselves during the day and disco away the night. The Villaggio dei Pescatori is an oasis from the smell of coconut oil that permeates the rest of Fregene. The small houses facing the sea here will give you an idea of the Roman coast in the 1950's. To reach Fregene, take Metro Line A to Lepanto, then a blue COTRAL bus to Fregene.
Sabaudia
This pretty seaside town was developed in the 1930's, one kilometer from sandy beaches and clean Mediterranean water. The town also faces a lake with watersports facilities. The entire area around Sabaudia is part of the Parco Nazionale del Circeo, a wildlife preserve. To reach Sabaudia take Metro Line B to EUR-Fermi, then a blue LILA bus to Sabaudia.
Santa Severa
This small village on the Via Aurelia is remarkable for its waterside castle. The water is cleaner and the beach less crowded in June and September. To reach Santa Severa take Metro Line A to Lepanto, then a blue COTRAL bus to Santa Severa.
Again, it's best to avoid these spots on Saturdays and Sundays in the summertime.
Bus travel in Lazio & beyond

The regional COTRAL buses leave from different terminals around the city, usually outside metro stations, according to the destination (info 800 150 008). The following is a list of those most useful for tourists.
Lepanto (Metro Line A):


Buses for Bracciano-Cerveteri-Fregene-S. Severa-Tarquinia.
Anagnina (Metro Line A):

Buses for Castel Gandolfo-Ciampino-Frascati-Nemi-Velletri.
EUR Fermi (Metro Line B):
Buses for Anzio-Latina-Sabaudia-S. Felice Circeo.
Ponte Mammolo (Metro Line B):

Buses for Subiaco-Tivoli-Palestrina.
Saxa Rubra

First take Metro Line A to Flaminio, then a Ferrovia Roma Nord train to "Saxa Rubra;" from there Cotral buses depart for Bolsena-Calcata-Sacrofano-Sutri-Viterbo.
Tiburtina (Metro Line B):

Buses for Castelnuovo di Farfa-Nerola-Rieti-Amatrice-Terminillo
If you want to catch a bus to other destinations outside Lazio, beyond the COTRAL network, go to Stazione Tiburtina. Most of the bus lines have an office in the main square, from which all the buses depart. However, don't expect to save money by taking the bus instead of the train. Tickets for the bus are only slightly cheaper, and the train is almost always faster.