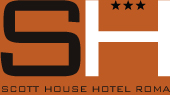 MAKE YOUR RESERVATION
SEASONAL OFFERS
Minimum guaranteed discount for bookings made trough our Official Website
Save UP to 10% off our best available rate !
Get up to 14% off with a 3 nights minimum stay
Hotel Location


Directions:
From Fiumicino Airport take the direct train to Termini Station.
It runs every half hour and takes 30 minutes. The first morning train goes at 6:37 AM and the last evening train at 11:37 PM.
If you arrive after 11 PM it is best to take a taxi to the hotel, the cost should be about 45 Euro.
At Termini station take the left exit, the one close to track 24 (you can see a McDonalds across the street). Turn left onto Via Giolitti, then thr first one you right which is Via Gioberti. We are located about 100 metres ahead on your left, on number 30, fourth floor, right hand lift.